Mental Health is a serious issue affecting our society today.
In an effort to get rid of the negativity and the stigma against mental issues, these brave people have chosen to share their stories with you.
Be nice, read, reflect and respond reasonably.
Mental Health Mondays has NOT died, it is ongoing, but it needs you to be brave by sending in your stories, in order to continue.
If you would like to express yourself and share your story on Mental Health Mondays, please feel free to email me at bewilderedbug(at)gmail(dot)com or tweet me at @bewilderedbug
Let's continue to spread mental health awareness together
***************************************************************************************
Today's post is from Trish from Mental Health Info.  She is so brave to tell her story and support so many others with her knowledgeable information on her site.  I'm so pleased she chose to share her experiences on Bewildered Bug as well!
Thank you Trish, this was an amazing post – and you truly introduced me into your world, and struck a chord with me – especially the lines "I am, and will continue, to do the unexpected regardless of how I am labeled.   It's who I am.  Mental illness did not take that away from me, it has strengthened my resolve to be more of who I am every day." I only wish I could reach to this point of awareness and mindfulness sooner rather than later – that is one of my goals.  Love you and thank you for guest posting!
*******************************************************
Try Walking in My Shoes
You hear the footsteps approaching.  This is not the first time.
You try for the thousandth time to wiggle your left hand out of the rope and a sharp edge of pain cuts up to your temple.  You are stripping layers of skin off your wrist but you don't care.  Anything is better than what's coming.
You feel the sob of anguish clutching your chest and you think you are strong enough to suppress it this time.  At least you have control over your emotions if nothing else.
You hunt through your memory to predict what comes next.  Every scene of violence, torture, brutality, blood and gore you've witnessed, fictional or not, emerges to orchestrate a petrifying image of your death.
Your heart is pounding out of your chest, electric shocks course through your muscles, every blood vessel in your face begin to quiver feverously, and you feel pulsing where your wrists, ankles and head are anchored to the wall.  You see a flash of Jesus tied to the cross and you wonder where the hell is God now?
Your question suffocates in your throat by the unleashed sobs bounding from your chest until your hope is drained through your tears.
You can now see through the dark to the locked door across the room.  The footsteps rise in volume above the sounds reflecting from your throat-spasms in disgust at the smell of your body no longer having control.  You feel every ounce of your being trying to break through your skin as your mind screams "escape!".
The door opens and you know.
You know you can't predict what happens now.
You know the relief of safety will not come.
You know you are alone in this.
You feel the shadow crawl across your cheek and you begin your mind search again to find that strand of control that will get you out of this…
A Really Bad Acid Trip
I wrote this description based on the fear I experienced a few weeks ago.  I had just gone through an event similar to my trauma in 2007.
Talk about triggering.
In 2008, I was evaluated as having Complex Post-Traumatic Stress Disorder.  PTSD is an anxiety disorder and is described as having a normal reaction to an abnormal event.  The "C" part means the trauma occurred over a period of time.
The year and half that lapsed between the initial traumatic event in 2007 and being convinced to go back to the allopathic system in 2008, was like being on a really bad acid trip (I've never tried a hallucinogenic, however it seems I don't need to).
This time could be represented by some classic movies; the first two-thirds were Poltergeist meets The Exorcist, and the last third was Conspiracy Theory meets A Beautiful Mind.
At the time of the evaluation, I was plagued by the feeling my rationale would collapse into insanity by the dark powerful energy I could envision inside of me.  It was slowly consuming me.
My nervous system was in constant high-alert.  As a survival mechanism, my senses had become hyper-vigilant to my environment, body sensations, and thoughts.  My brain persistently searched for possible threats to the point of me becoming extremely sensory overstimulated on a daily basis.
Of course new and/or dynamic stimuli taken in by my senses were the worst.
This meant TV and movies were out.  Music was out.  Websites with dynamic content were out.  More than an hour on the computer was out. Reading was out.  Taking long trips in the car was out.
Basically today's fast-paced information-driven world was out while staring at the blank wall was in.
I was so anxious, I developed a constant floating sensation which would worsen when I experienced overstimulation (and I would get anxious when I was overstimulated, so you now see the conundrum).  I took dissociation to a whole new level for a lot of the practitioners I worked with.
I had a myriad of physical ailments and spiraled into depression.  I was desperate to the point of beseeching my alternative and traditional practitioners to please (I'm Canadian; we beseech politely) "cure" me.
I was flirting heavily with anorexia as I had become frightened of certain foods (rice can be terrifying when you are convinced it gives you vertigo).  I developed an uber-healthy eating regime in an attempt to control my body from developing more symptoms of that unidentified terminal illness I was convinced I had.
I couldn't be alone.  I didn't go anywhere without my husband because I believed I could no longer cope…with anything.
It took 2 years to find the right combination of medications.  Due to being highly-sensitive I could only manage low doses, never enough to "numb me out" but enough to help me begin to manage my reactions to my thoughts and question their validity.
When is Suffering a Gift?
They say it is healing to be able to look upon your suffering as a gift.  It has taken me a long time to be grateful for the personal growth I have experienced since 2007, and to recognize the courage and stamina mental illness demands of you.  How many times did I feel like I was lying naked on the floor of a deep cavern in hell?  Enough times to surrender to that feeling over and over until I knew what I needed to do to climb out.
Today, I am considered a C-PTSD "survivor".  It is not that I am free of the symptoms, able to work, step into any situation without anxiety, or shake the feeling I am dying before my time.  My primal instinct is still in high-gear, functioning on the "always remain safe" and "be in control" settings.
What has changed is I have a whole lot of self-love and compassion.  I practice to yield and adapt to my circumstances and I am truly grateful for my life.  I have learned to be an active participant in my recovery through small action steps.  I practice guiltless self-care.
And like magic, opportunities have opened up for me to further my healing and gently push my limits bit by bit by doing what I love.
I am, and will continue, to do the unexpected regardless of how I am labeled.
It's who I am.
Mental illness did not take that away from me, it has strengthened my resolve to be more of who I am every day.
The Moral of this Story
I wrote this with the intention of having you journey with me back into parts of my past – to walk for a bit in my shoes.   How'd I do?
Through the site Mental Health Talk, I advocate for the wisdom garnered from our experience with mental illness.  So if I may leave you with some of my hard-earned wisdom; don't wait for any illness to learn to love who you are and recognize how you influence your world.
And this is something I want the whole world (okay, I'll settle for the readers of this post) to know about you; you are just right the way you are.
I truly love that about you.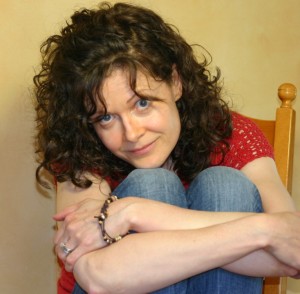 Trish Hurtubise is the Founder and Editor of the web site Mental Health Talk; an eclectic collection of stories and wisdom from people who experience mental health issues. MHT is often called by visitors "a valuable resource" for all thing related to mental health. Please stop by if you are experiencing mental health challenges as it is Trish's intention you leave the site feeling better understood and connected to a courageous tribe.