If you've been keeping up with my blog, you know that my husband has gone to the UK to study Law and I am still in Toronto.
He is too far away for my liking, so I am creating "Too Far Away Fridays" to honour the difficulty, pains and triumps of long distance relationships.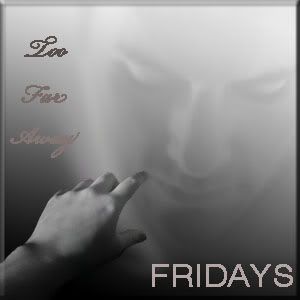 I am missing Luv Luv terribly, and I forsaw that this would happen, so I has asked for advice from other bloggers about their experiences when they were involved in long distance relationships for one reason or another.
They all had some poignant advice and pertinent stories to tell, so I asked them to share their advice with my readers.
The first guest blogger is Brenda, and she blogs over at We are All in This Together.  This is her experience with her long-distance relationship.
******************************************************
There are some things that I would have done differently with the way I handled my husband leaving for Iraq, but there is not much I can do about it now.
We met online and then married shortly after meeting.  I knew that our time together was short because he was deploying, but we had so many plans for when he arrived back home.  We talked about starting a family, buying a house, and him getting on with his civilian life, but first, we both needed to make it through his deployment.
We had decided while he was deployed that I should be with my family who would support me.  My family lived 1000 miles from where he was stationed in Ft. Sill, Oklahoma.  Our separation would be a few weeks longer than I anticipated because he worried. He wanted to drive with me to my parents' home to make sure I was settled in and safe.
We spent some time with my siblings, parents, and a little bit of time alone.  We celebrated my 30th birthday together then I had to take him to the airport to fly back to Ft. Sill, ultimately knowing he would be flying to war in 2 weeks.
We spent the night in a hotel, we hugged, we kissed, and we prayed.  I prayed like I have never prayed before for safe flights, safety for him, safety for his friends, and for his platoon.  These prayers continued for the next several months!
The time came that I had been trying to put off mentally for some time.  I drove him to the airport and had hoped like I had never hoped that the airport would be closed and he wouldn't be able to enter!  I didn't want a natural disaster, or any disaster, I just wanted more time with my husband.
I got out of the car, handed him his suitcase, his carry on, and tears were streaming down my face.  I was mad!  I was mad that the man I loved was being taken away, but at the same time, I was so proud!  He joined the Army AFTER the country had been at war.  He wanted to make a difference and fight for our country!
I looked at him and tears were streaming down his face and he told me he loved me and when I saw him again we would start trying to start a family.  Heck, trying was good enough for me!
I drove away with tears streaming down my face.  He didn't want me to wait for him at the airport because it was just too sad.  I wouldn't have been able to get past the gate anyway.
I got a call 45 minutes down the road.  It was him!  His plane was delayed and he wanted me to come back!  I cried tears of joy as I drove back to the airport and when I saw him waiting, I was so relieved.  I got out and hugged him like he had been away for awhile.  We ate some breakfast together, visited, kissed and hugged, and spent the next 2 hours together.  But, the misery of dropping him off was even more miserable!
We talked on the phone almost every night while he was at Ft Sill, but then he lost his phone.  Fortunately someone called and let me know that they had it.  I got the information to him and we were able to talk again!
He called me in Maine before flying to Germany then off to war.  I could tell he was scared and he told me that it didn't hit him until then what was happening.  He wanted to see me again, he wanted to see American soil again.  I heard something come over the speakers while we were on the phone and he then told me he had to board the plane and we wouldn't be able to talk until he was in Kuwait.
The calls kept coming daily.  We exchanged emails daily too.  He never did get the Yahoo IM to work due to slow connections.
I worked in a daycare and got permission to talk to him on my cell phone, as long as I could talk and take care of 20 toddlers.  Needless to say, the calls were cut short most of the time on my end.  I hated having to work and not talk to him for as long, but if he could fight a war, I could take care of 20 toddlers!
My family kept me entertained, listened to me when I whined and cried, and they were a great support to me.
I started doing things for myself and making myself a stronger person, both physically and mentally.  I worked out like crazy, I saved money, and I started taking prenatal vitamins because I was going to start a family.
I got my first pedicure, my first facial, and really loved the  way these things made me feel!  I felt sexier after, and with each workout, I felt like I was one step closer to making my dreams come true.
Then the call came.  Not the call you are expecting, but a call without the closure and finality that would have been easier.  He called to let me know that during the time away, he learned that he loved another woman that he had more in common with.  She had a daughter that he wanted to hold.  He met this woman at the dry cleaner AFTER he had dropped me off and before he left.  They kept in contact more on the phone and in emails than he and I did.
I would not have let him talk me into going home early.  I would have insisted on more money for separation pay rather than letting him keep it in savings for "our home, our family."  I wanted to stay with him… all the prayers, all the tears, and all the dreams… wasted!
Through the anger, I was happy with the way that I supported him by sending packages, keeping in touch with his family, and holding my head high when I found out he was not coming home to me.
I was most thankful that I learned things that made me happy and that I had such a strong support system at home.  Do things to make yourself happy and when your partner arrives home again… he will be happy too!